Explore Vietnam
Culture
Visiting the land of Quan Ho folk songs
Through untold ups and downs, Quan Ho (love duets), an art form of folk music and singing famous in the region of Kinh Bac, present-day Bac Ninh Province (North Vietnam) and its surrounding areas, has been well preserved generation after generation. On September 30th, 2009 Quan Ho was recognized by UNESCO as an intangible cultural heritage of mankind.
Betel and areca quids made in the shape of the phoenix bear the cultural feature of Quan Ho people.
Stories of the Quan Ho villages
As a regular, annual occurrence, every lunar January when the breath of spring is still fresh on the trees and plants, people from around the Kinh Bac region go to the Lim Festival (held in Lim Town), or to Viem Xa Village (also called Diem Village) Festival in Hoa Long Commune, Yen Phong District, Bac Ninh Province to enjoy Quan Ho singing or learn from one another on how to compose verses or music for Quan Ho songs.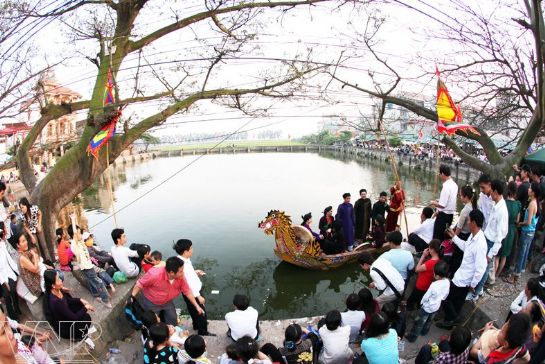 Traditional Quan Ho performance space is closely connected with rural areas inNorthern Vietnam.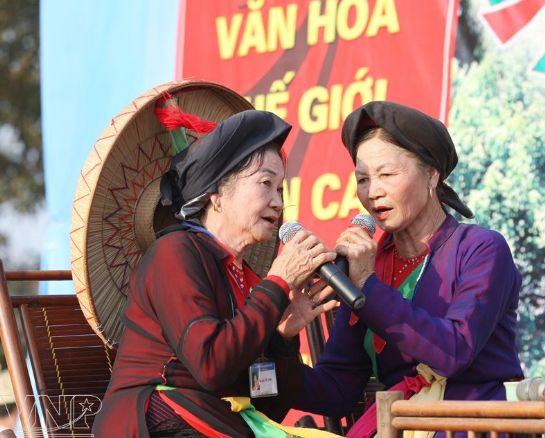 Elderly Quan Ho singers.
Every year, Lim Festival attracts tens of thousands of visitors.
Lim Festival begins with the procession of General Nguyen Dinh Dien who founded the festival in the 18th century.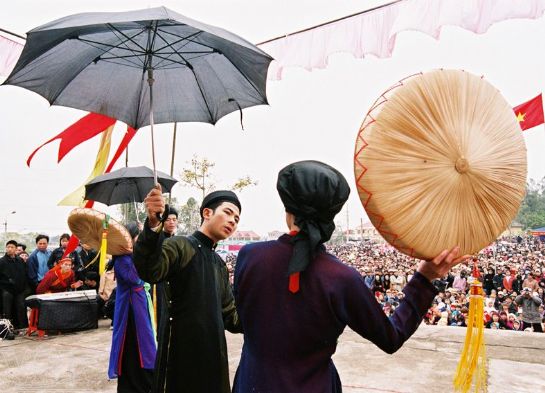 Quan Ho singers perform at Lim Festival.
Female Quan Ho singers are more charming with their palm hats.
Singing Quan Ho in the village's pagoda.
A wedding on the land of Quan Ho.
According to researchers, the entire Kinh Bac region has 49 original Quan Ho villages where villagers have preserved the traditional Quan Ho singing. Among them is Viem Xa Village, where there is a temple dedicated to Lady King, who according to the local legend was the founder of the Quan Ho singing. After so many years of existence, Viem Xa villagers still retain many old Quan Ho melodies.
In the old days Quan Hosingers sang without any musical accompaniment. There are various kinds of Quan Ho singing, including singing at a certain time in the evening, singing at the communal house to honour the sprits, singing to pray for clement weather, good luck and peace and singing to congratulate good fortune. A very special Quan Ho singing is for making friends between Quan Ho singers of one village to those of other villages.
The custom of this befriended singing becomes a unique cultural feature of the Quan Ho singers that no other art forms have. Through singing, the singers have built up a special relationship based on the principles of cultural conducts which are of both conventional and binding meaning. For example, Quan Ho singers, after getting befriended, will never marry each other. They treat each other as siblings, happy when meeting each other, and sad when saying farewell. They are also ready to help each other when needed.
Besides special behaviours, the singers pay much attention to choosing the verses and singing the song. For example, when singing at the communal house, the singers must use formal words and follow a strict rule of singing. But when singing on the hillside, they are much more comfortable, holding an umbrella (male) to shade his partner, or a flat palm hat with fringes (female) to charm herself and keep their voice warm and far echoing.
The traditional customs and habits are handed down, generation after generation, which helped build up the Quan Ho cultural identity in the Kinh Bac region.
In the global integration stage
Like other traditional art forms, Quan Ho has its share of ups and downs throughout existence and development. In present modern life, a lot of changes take place in all fields that results in a change in the way the art is viewed and performed, and changes were demanded by current Quan Ho enthusiasts.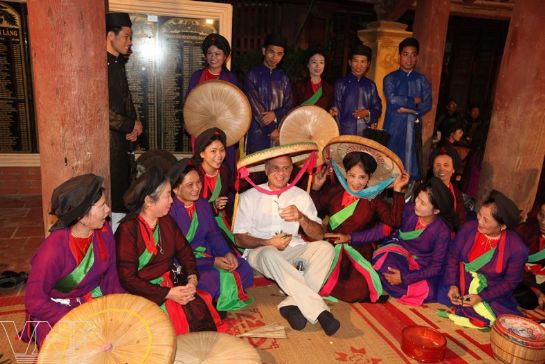 A foreign tourist enjoys his time with Quan Ho singers.
A meeting between Quan Ho singers from Bac Ninh Province and 87 guests from 45 diplomatic delegations and representatives of international organizations in Vietnam.
In 2006, Bill Gates, Chairman of Microsoft visited the Quan Ho land of Bac Ninh.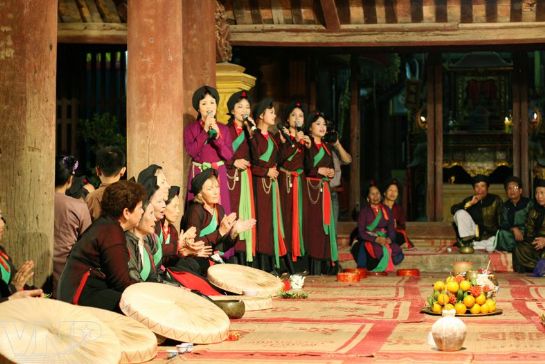 Vietnamese and foreign Quan Ho singers perform together.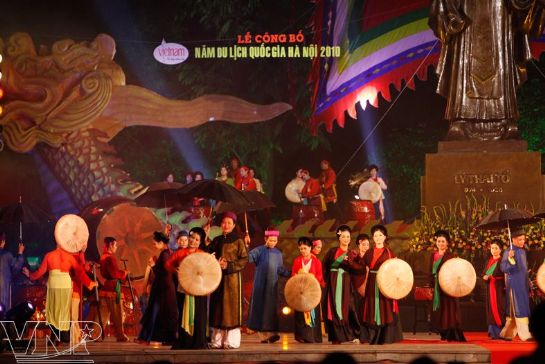 Performing Quan Ho to celebrate the Hanoi National Tourism Year 2010.
In the old days, the space for Quan Ho performances was closely linked with images of the rural areas where there is "an old banyan tree, a water landing stage and the communal house". It was there where Quan Ho singers sang in duets with their wholehearted emotions and about the relationship among co-villagers.
Nowadays, the performing stage is more open and diversified. With support from modern sound and lighting equipment, together with renovation of the songs' verses and tunes, Quan Ho singers have more room to perform. They sing Quan Ho at the folk festivals, during cultural, political, sports and tourist events held nationwide or abroad.
In addition, Quan Ho performance also changes in presentation. Traditionally, the singers sang alternatively in duets or in two small groups, but now they can sing solo, in groups, with illustrated dancing or together with other artistic forms.
Talking about the changes in Quan Ho performance, artist Xuan Mui, Deputy Head of Bac Ninh Quan Ho Troupe, said: "Quan Ho has preserved its unique soul and identity, although there is some renovation. Honestly, it is the very that change which helps Quan Ho more popularized among the audience."
There are both positive and negative comments about Quan Ho in its global integration stage. When evaluating it from the fact that this art form has tried hard to adapt itself to current life not only for existence but also for further development as what it is nowadays it should be respected.
How to preserve Quan ho along with time
Long before Quan Ho was recognized by UNESCO as an intangible cultural heritage, many Quan Ho enthusiasts thought of preserving and developing it. Deep inside their hearts they had a great concern of how to preserve this treasure.
Researching and preserving ancient Quan Ho songs at UNESCO Quan Ho Club (Bac Ninh).
An intensive Quan Ho singing course of UNESCO Quan Ho Club (Bac Ninh).
Quan Ho artisans teach young people Quan Ho songs.
Elderly Quan Ho singers perform at Lim Festival.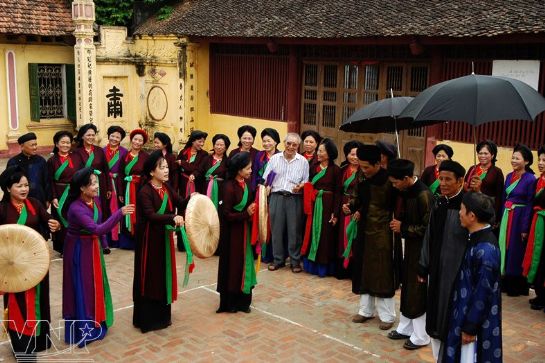 A regular activity of UNESCO Quan Ho Club in Bac Ninh.
Discussing the existence of Quan Ho, elder Nguyen Dinh Ngo from Noi Due Village, Bac Ninh Province, a grandchild of the 16th generation of General Nguyen Dinh Dien (in the 18th century), who contributed to the organization of the traditional Lim Festival, said: "I am now in my old age and have a short time left. I wish my children and grandchildren will preserve the beauty of Quan Ho which is handed down from our ancestors."
To preserve Quan Ho, in the old days, villagers paid attention to bequeathing the expertise, from generation to generation. According to Quan Ho artisans in Diem Village, the training of Quan Ho was practised in the form of teaching orally. Out of their families, boys and girls gathered into groups and learned Quan Ho from famous artisans. Lessons were not only on how to sing, but also how to greet and behave with the audience, as well as how to prepare tea, betel and areca quids made in the shape of the phoenix, and cook food to offer to the guests.
Today, groups of Quan Ho singers in Bac Ninh are changed into clubs, where Quan Ho singers can perform, exchange experience with one another or teach anyone who wants to learn this art form. In the evening, in the courtyard of the temple dedicated to Quan Ho patron saint in Diem Village, courses on Quan Ho are held, giving out positive signals of a bright future of this traditional treasure right at its native place.
* "The fact that Quan Ho has been listed among representatives will help highlight the role and position of the heritage in society, and enrich the picture of diversified cultures of Vietnam and mankind." (UNESCO)
* "To make Quan Ho worthy of being an intangible cultural heritage of mankind, Bac Ninh authorities and people will try their best to preserve and develop this treasure of the country. However, beside our own efforts, we hope to enjoy joint efforts and assistance from the State and Quan Ho enthusiasts."
(Nguyen Dang Tuc, Director of Bac Ninh Province 's Department of Culture, Sports and Tourism)
* "Quan Ho is not a heritage on display in the glass box for window watching. We have to preserve and develop it simultaneously, because if we only preserve it without developing it, it will fall into oblivion."
(Artist Xuan Mui, Deputy Head of Quan Ho Troupe of Bac Ninh)
Source: VNP
Maybe You Also Interesting :
» Museum of Ethnology a premier destination in Hanoi
» Book on traditional music released
» Australian guitarists to perform Vietnamese folk music