Heavy rains in the last three days in the central region have left four people dead, hundreds of houses destroyed, and the region submerged under water, according to local authorities.
>>Floods inundate homes, crops in central region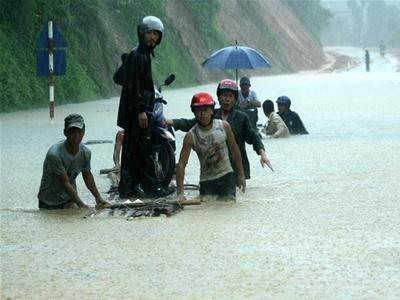 Illustration photo. Internet
Three of the victims were in Khanh Hoa and the other in Phu Yen, the two most-affected provinces where some streets are under two meters of water.
Major roads leading to Nha Trang, like Hung Vuong, Dien Bien Phu, Biet Thu, October 23 and April 2, are all flooded, leaving thousands of motorbikes and cars stranded and completely blocking traffic.
In Khanh Hoa 47 houses had collapsed by late Sunday while around 600 hectares of standing crops have been destroyed.
In Phu Yen, 500 houses are uninhabitable since they are under a meter of water.
Authorities and rescue workers are helping residents in vulnerable areas move to safety.
There has been 50-100 mm of rain in the region and the southern hydrometeorology center has forecast the same volume to fall in the next few days.
Provinces along the coast from Quang Nam to Binh Thuan are expected to experience winds of up to 60kph, foggy weather, and mudslides in mountainous regions.
Provinces further south, especially in the Mekong Delta, could also experience strong winds and rough seas of three to five meters high, according to the center.
Source: Tuoitre
Maybe You Also Interesting :
» Floodwaters continue to isolate Phu Yen, Binh Dinh Provinces
» Flash floods cause huge damage
» Fresh flood claims five lives in Thua Thien-Hue